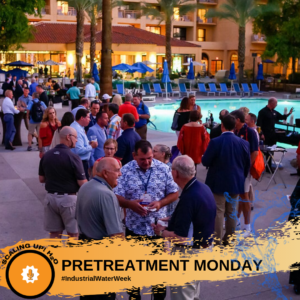 Industrial Water Week, Day 1: Pretreatment Happy Industrial Water Week Nation! We have an entire week that is devoted just for us, the Industrial Water Treater. Last year, a friend of the show, James McDonald launched this holiday to help us celebrate how awesome our job is. Industrial Water Week is always the first full week in October.
Here is what we celebrate:  
Pretreatment Monday  
Boiler Tuesday  
Cooling Wednesday  
Wastewater Thursday  
Careers Friday  
There is just so much to do in our job, our holiday requires more than just one day to celebrate. We get a whole week! 
Today we celebrate pretreatment. Pretreatment is anything that we do to improve water quality to make it more acceptable for a specific end use. That means filters, water softeners, dealkalizers, and the list goes on. Today, as we celebrate industrial water week, think of all the things we use in our pretreatment processes.  
To help us celebrate this awesome holiday week, we took our recording gear to the Association of Water Technologies Annual Convention to take you right into the action. Please enjoy. 
Timestamps:
Industrial Water Week Celebration [00:30]  
Pretreatment Monday [01:35]  
Who is Responsible For IWW Holiday? [05:06]  
AWT Online Training Modules [07:22]  
The Youngest CWT [10:45]  
Advantage Controls [13:45]  
Young Professional Happy Hours [18:08]  
Random Interviews [24:04] 
Quotes:
"Get here however you can! Show up. Be involved. Be part of the AWT. You won't regret it!" – Jason Turcsanyi
"Industrial water treaters are awesome! Industrial water treatment is awesome! And it just makes sense that we have an entire week to celebrate! " – Trace Blackmore
"We have the best job and the best industry in the world. We all need to celebrate it!" – Trace Blackmore
Connect with:
Dan Morris on LinkedIn: in/dan-morris-4049003
Michelle Farmerie on LinkedIn: in/michelle-farmerie-bb300231
Brady Benson on LinkedIn: in/brady-benson-73290b2
Jason Turcsanyi on LinkedIn: in/jason-turcsanyi-5b8538124
Mauricio Nieto on LinkedIn: in/mauricio-nieto-48350a7b
Griffin Rial on LinkedIn: in/griffin-rial-568768aa
Peter Myers on LinkedIn: in/peter-myers-27363514
Bill Hildebrand on LinkedIn: in/bill-hildebrand-38058813
Links Mentioned:
Ep 21: The One with James McDonald
049 The One with James McDonald, Again  
064 The One with the Youngest CWT