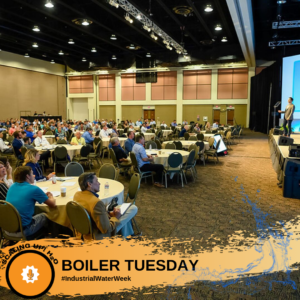 Happy Industrial Water Week Scaling UP! Nation!   
We are celebrating Day 2 of Industrial Water Week. Day 2 is all about boilers. One of the ways I like to think about our job is that we are heat transfer, efficiency managers. That means we take heat from one place and transfer it to another as cost-effectively as possible. When we talk about boilers, we are putting heat into the system, so that heat can do some work. This work might be to power something, or it could just be to heat something. Either way, the steam boiler is the "workhorse" of our modern-day world.  
On this special holiday episode, we are back at the Association of Water Technologies Annual Convention.  Where we talk a bit about steam boilers and chat with friends of our show.  
Happy Day 2 of Industrial Water Week.
Timestamps:
All About Boilers [00:43]
Tips from Larry Pannell [03:39]
Questions for Laura Sanders [07:54]
The Upcoming AWT President [09:43]
Appreciating Thomas Branvold [12:26] 
Upgrading with Tom Tinney [14:40]
Learnings at The Convention :18:18]
The Young Professionals [21:01]
Cool Stuff In 2019 [22:45]
Industrial Week 2020 Schedule [24:14]
Understanding H2trOnics [24:45]
pH Meter [26:00]
Interview with Scott Olson [28:45]  
Quotes:
"This (AWT) is one of the few organizations where vendors have an opportunity to participate in committees and contribute something meaningful. In return the water treatment industry benefits as a whole." – Tom Tinney
"The number one tip for water treaters: If it wasn't written, it wasn't done." – Jay Farmerie
Connect with: 
Larry Pannell on LinkedIn: in/larry-mike-pannell-32602011
Laura Sanders on LinkedIn: in/lauraasanders
Reid Hutchison on LinkedIn: in/reid-h-3a329431
Adam Dumler on LinkedIn: in/adam-dumler-7627a77a
Matt Black on LinkedIn: in/matt-black-b80960159
Chris Golden on LinkedIn: in/chrisgoldentaylortech
Scott W. Olson on LinkedIn: in/scott-w-olson-cwt-5380804
Links Mentioned: 
089 The One That's All About Filming Amines (General)
090 The One That's All About Filming Amines (Boilers)
091 The One That's All About Filming Amines (Closed Loops and Cooling Towers)
003: Controllers with Tom Tinney
093 The One with Jay Farmerie, CWT
094 The Other One with Jay Farmerie, CWT
062 The One with the Pulsafeeder Guy