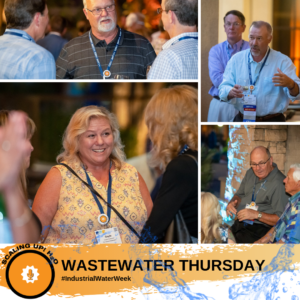 Industrial Water Week, Day 4: Wastewater  
It's a dirty job, but someone must do it. That someone is us, the Industrial Water Treater.  
Today we are celebrating Wastewater Thursday. Wastewater is all about taking something out of our discharge water that came from our process. Most municipal plants require that the water they receive has a minimum water quality so that it will not harm their biological population. It's all about the "bugs."   
A few months back we did 2 shows devoted to wastewater with our guest, Kevin Kope- episodes 78 and 79. Many water treaters have told me what a helpful resource these shows are. Feel free to incorporate re-listening to them during your celebration today.   
In the meantime, we are back at the AWT convention so you can hear from your fellow Scaling UP! Nation Members.  
Timestamps:
WasteWater [00:30]
Metals Precipitation [03:30]
Supplier Of The Year [06:54]
The Young Professional Council [08:24]
Common Things In The Convention [11:09]
Tips From Mark Lewis [14:47]
Offers in Peabody Engineering [19:33]
Free Enterprise Server Application [21:18]
QCPR Device [23:25]
Quotes:
A tip from Mark Lewis, CWT, "Whatever you do, don't just run a test and say that's the number because that's what the test is telling me. Trust but verify. Know why you are running the test and then know what the test is telling you."  
Connect with: 
Kevin Cope (Brentagg) on LinkedIn: in/kevin-cope-5b50651b
Matt Freije (Supplier Of The Year) on LinkedIn: in/mattfreije
Patrick Manning on LinkedIn: in/patrick-manning-303930b0
Ty Thomas on LinkedIn: in/ty-thomas-95884853
Mark T. Lewis on LinkedIn: in/mark-lewis-01a3b56
Tom Cass (Aqua Laboratories, Inc.) on LinkedIn: in/tom-cass-42605510
Doug Frassa on LinkedIn: in/doug-frassa-3755708
Mark Peabody (Peabody Engineering & Supply, Inc.) on LinkedIn: in/peabodyengineering
Lori McPherson (Walchem) on LinkedIn: in/lori-mcpherson-ba15201
Charlie Heineman, CWT on LinkedIn: in/charlieheineman
Links Mentioned:
078 The One with The Waste Water Guy (Part 1)
079 The One with The Waste Water Guy (Part 2)
083 The One About Water Management Plans
034 The Other One With Mark Lewis, CWT