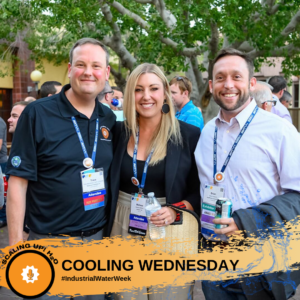 Happy Industrial Water Week everyone! Today, Day 3, of our weeklong holiday is all about Cooling. Yesterday was about boilers. Since we put heat (BTU's) into something, today we have to cool it down. We are taking BTU's out of something. In most processes, heat is a byproduct that slows the process down. The more widgets a machine makes, the hotter that machine gets. The hotter the machine gets, the fewer widgets that machine can make. And that's where we come in.  
Getting heat out of our process and sending it to a place we don't care about it is key to our job. The less heat we have, the more widgets we can make. That means the widget factory can be more profitable. Our job as an industrial water treater is to make that process as efficient as it possibly can be. After all, the heat transfer medium they are using is the lifeblood of the whole operation.  
As we celebrate Cooling Wednesday, we are back at the AWT conference. Join me as I continue to interview fellow Scaling UP! Nation! Members and take you inside the conference.
Timestamps:
The Legionella Expert [02:03]
Next Generation Culture Test [04:06]
Supplemental Disinfection [06:24]
Filming Amines With Logan [09:37]
Pure Water For The World [12:00]
Ideas For The Show [17:54]
To Young Professionals [22:36]
What is Endotherm? [24:55]
Panel Builder Program [26:33]
Talking With Michael Byerley [27:44]
At The Lovibond Booth [28:47]
Quotes:
"When nobody is having dialogue around legionella, nobody is getting anywhere. Start talking to your clients because that is a tide that will raise all industrial water treatment boats. " – Trace Blackmore
"Water is what brings us all together and Pure Water for the World provides that most basic need for people." – Rye Thompson
"Water Treatment is not just for those in the industry, but for everyone!" – Trace Blackmore
Connect with:
Kristin Majeska (IDEXX) on LinkedIn: in/kristinmajeska
Alberto Comazzi on LinkedIn: in/alberto-comazzi-132637128
Logan Manaranche on LinkedIn: in/logan-manaranche-8b705247
Rye Thompson on LinkedIn: in/rye-thompson-58116989
Jim Lukanich on LinkedIn: in/jim-lukanich-b73a2635
Will Wilson (EndoTherm) on LinkedIn: in/39426822
Brian Katarski (AquaPhoenix) on LinkedIn: in/brian-katarski-9630602b
Michael Byerley (Global Water Technologies) on LinkedIn: in/mbyerley1
Robert Reynolds, CWT on LinkedIn: in/robert-reynolds-cwt-b46a5615
Links Mentioned:
Pure Water For The World, Inc.
091 The One That's All About Filming Amines (Closed Loops and Cooling Towers)
081 The One about Pure Water for the World  (with Carolyn Meub)