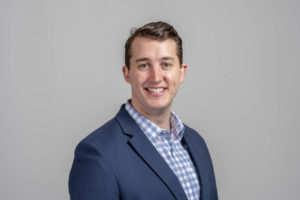 As water treaters, we all have many things in common. Our commonality is what allowed Scaling UP! H2O to form and grow a community called the Scaling UP! Nation! One of my favorite questions to ask members of the Nation! is: "how did you start in the industry?" While the answers can sometimes be similar, there is always a uniqueness to each one.  I like this question because it reminds me that we all start at the same place; we all had the first day.  How we get to that first day might be different, experiencing that first day galvanizes us all into a group called water treatment professionals.  I asked that same question to today's guest, Reid Hutchison of HOH.
I first met Reid at an AWT Technical Training Seminar that he was at because he heard me mention it on the podcast.  I liked him right out of the gate!  In case you missed a previous show or two, my advice was that if you are practicing the same type of water treatment as me, you should attend the technical training the Association of Water Technologies hosts.  This advice also included attending both the Fundamentals and Applications training and the Technical training.  
(Fundamentals and Applications training is for someone who has been in the industry for three years or less.) The Technical training is for those preparing for their Certified Water Technologist designation. Most people attend one or the other. Many think that since they have been in the business for several years, they have nothing to gain on the Fundamentals and Applications side. To this, I say nye, nye. The AWT strategically adds topics to the F&A seminar and deletes them from the Technical seminar to help with time and overall understanding. 
If you don't attend both, you are missing information. It is also a chance to connect with new water treaters and customers.  
Reid talks about his experience with the seminars and so much more. As a member of the water treatment community, you are sure to relate to Reid and take away a lot of useful information.    
Timestamps:
Radical Polymers [00:13]
Business Owner's Meeting [01:56]
Before Getting Into The Family Business [09:47]
How To Manage Working With Relatives [13:45]
EOS Journey [20:25]
EOS Advice To Issues [31:20]
Learnings From AWT Training & Seminar [37:51]
Different Kinds Of Speaker [50:10]
How To Make Math Interesting On Podcast [54:43]
Takeaways From Technical Training Seminar [57:59]
Take Notes Effectively [61:15]
Quotes:
"People that want to grow and succeed are willing to ask hard and challenging questions."
"Even if you don't own a water treatment business, you do own what you do. 
Connect with Reid Hutchison:
LinkedIn: in/reid-h-3a329431
Website: www.hohwatertechnology.com
Links Mentioned: