Scaling Up Nation! I want to thank you for listening to 200 episodes! I have been honored to be your host of this weekly podcast over the past 4 years, and I cannot wait to bring you another 200 episodes, thank you for making the podcast what it is today!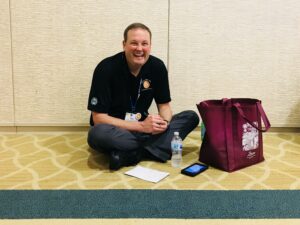 Looking back, if you had told me when I recorded Episode 1 of The Scaling Up H2O podcast that 4 years later, I'd be celebrating our 200th Episode, I would have laughed. Creating this episode made me realize just how far the podcast has come, and I cannot tell you how much I appreciate the listeners and team that makes this weekly podcast possible. 
I love this industry. Being a water treater has been an outstanding career. It's been so good to me, and I want to return that goodness to the industry I love.  
Bottom line: My mission is to raise the bar in the water treatment industry. I hope that each episode you listen to elevates you and helps you become a better water treater so that you have more enjoyment for the industry you are serving in.   
Your roadside friend, as you travel from client to client.  
  -Trace  
Timestamps:  
Celebrating our 200th Episode by looking back at how much we have grown [0:01] 
What the past 200 episodes have meant to me [6:30] 
What the past 200 episodes have meant to you, our listeners [9:28] 
Using the podcast as a training resource [17:10] 
Water treatment is a professional profession [19:00] 
Water is a finite commodity [20:00] 
More thank yous [21:30] 
James' Challenge: "Run a jar study on a wastewater sample (or learn how to do one)." [29:13] 
James' Challenge BINGO Game on our Scaling Up H2O Facebook page [30:55] 
Quotes: 
"You can do anything you want to do, and it's not going to be pretty the first time that you do it. The important thing is that you take the first step." – Trace Blackmore  
"Whatever you want to start, get started!" – Trace Blackmore  
"I have a passion for this podcast!" – Trace Blackmore  
"My dad told me whenever I thought I learned everything in this industry was the day I needed to quit because that was impossible." – Trace Blackmore  
"Congrats! You are in a job that has endless learning. You should never be bored, you should never feel that you have reached a plateau, and if you have you are not trying hard enough." – Trace Blackmore  
"Please don't fall into the day-to-day rut, there is always something else to learn and always something to get better at." – Trace Blackmore  
"The biggest thing this podcast has done is that it has created is community." – Trace Blackmore  
"My hope was this podcast was going to be your onboard companion as you go from account to account and motivate you to learn new things." – Trace Blackmore  
"The podcast showed me that my work matters, that we can get better, I'm not alone in this industry." -Reid Hutchison 
"Time flies when you're having fun, keep up the good work." – James McDonald 
"It's been a great way to know some of the industry titans." – Laith Charles 
"The podcast acts as a constant reminder that water treaters can be impactful, and we can use the podcast as a training tool." – Adam Sites 
"Water is a very finite commodity on our planet." – Trace Blackmore   
"We as water treaters are the most inexpensive bill that our customers will ever pay. You are the most valuable vendor they have. Please make sure they know it." – Trace Blackmore  
"Scaling Up has been really good for us, it's the place we come to for industry insights." -Russ Baskin 
"If all of us get better, the industry gets better." – Trace Blackmore  
"Trace, thank you for helping us scale up our knowledge so we don't scale up our customer's systems." -Mark Lewis 
Links Mentioned: 
001 A New Podcast for Water Treaters
190 The One Where I Celebrate Four Years Of Hosting This Amazing Podcast
004 It's Not Easy Being Green!
AWT (Association of Water Technologies)