Every time I talk to Chris Nagle, I learn something new. I end the conversation more curious than when we start chatting, and I feel energized and empowered to take a deeper dive, so I become a better water treater. Chris has a background in water treatment and works at Evapco, one of the largest cooling tower manufacturers in the world.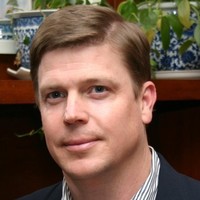 Chris is a Legionella Bacteria and Cooling Tower Expert because he took the time to comb through years of data and reports to find some truly shocking revelations. He didn't take things at face value. He did the math and research to discover something new about Legionella Bacteria and government regulations that I think every water treater should know. 
Chris is a passionate investigator and today he is going to touch on what you need to know about Legionella Bacteria transmission, Drift Eliminators, White Rust, Potable Water, Tower Plume, Distributed Water System, Seeding Events, Evaporative Cooling, Tower Louvers, and more.  
If you were not able to watch Chris Nagle's presentation at AWT's 2020 conference, we've put a link to that below.  
Bottom line: Chris knows his stuff and you cannot listen to today's episode without learning something new. 
Your roadside friend, as you travel from client to client.  
-Trace  
Timestamps:  
James' Challenge: "Dig through the AWT (www.awt.org) website for resources (both members and nonmembers)." [5:00] 
Introducing Chris Nagle, Legionella Bacteria and Cooling Tower Expert [7:00] 
Understanding the 4 types of cooling towers so you can use the right program [10:42] 
Ways to educate others and the Media on Legionella and Cooling Towers [17:55] 
What are the government regulations around Cooling Towers and Legionella, and are they reducing the number of cases? [21:48] 
The problem with the Distributed Water System [25:10] 
What do we need to know about Drift Eliminators? [28:55] 
Is there an amount of CFUs of Legionella bacteria that is virtually impossible to get out of a modern-day Drift Eliminator? [37:28] 
How should we evaluate a Cooling Tower, and talk to our clients? [40:10] 
What's the difference between a Tower Louver and a Drift Eliminator? [45:40]  
What is a Tower Plume, and can it spread Legionella Bacteria? [48:18] 
What resources should every water treater read (*links are below*) [50:05] 
What's the one thing you want all the listeners to know? [55:12] 
Lightning Round Questions [57:12]  
Quotes: 
"Legionella Bacteria and Legionnaires Disease is not a cooling tower problem, it's a distributive water modern society problem." -Chris Nagle
"We educate through data, data sharing, and education." -Chris Nagle
"Just because we find Legionella in a cooling tower doesn't mean it is the source of the disease." -Chris Nagle
"It's a slippery slope if we start copying and pasting from one regulation to the next, or we start making assumptions based on what someone else has said." -Chris Nagle
"Legionella got its name from a Legionnaires convention in Philadelphia in 1976." -Chris Nagle
"Legionella regulations have not produced a meaningful reduction of the disease." -Chris Nagle
"The data shows that even if we test more often, the regulations are not helping the Legionella rates to go down." – Chris Nagle
If we want to get at most of the disease, we need to look more broadly at all building water systems and the supply water systems." -Chris Nagle
We used to think "How do we treat the water to stop the transmission of Legionella," but now we can think about "How can we better equip the cooling tower, the device, so it doesn't get out of the machine itself." – Trace Blackmore 
"Make sure you understand your system volume. We don't want to be overfeeding." -Chris Nagle
"We're water treaters. We need to know how much water we are treating." – Trace Blackmore 
"Legionella Bacteria in low levels in a modern tower is not an indicator of an outbreak or potential outbreak." -Chris Nagle
"Plume cannot create a risk for Legionella because it is water vapor, not water droplets." -Chris Nagle
 
Links Mentioned: 
Dr. Dick Miller's Legionella Recommendations (link to PDF) 
AWT (Association of Water Technologies) 
186 The One Where Conor Parrish Interviews Me, Part 1
187 The One Where Conor Parrish Interviews Me, Part 2
037 The One That's All About White Rust
137 The One That's All About Cooling Towers, Part 1
138 The One That's All About Cooling Towers – Part 2
116 Pinks and Blues: System Volume
Chris Nagel's AWT 2020 presentation (YouTube 2020) Cooling Towers, Legionellosis, and Water Management Programs [TRT 59:21] 
Papers Chris Nagle recommends all water treaters read: 
Chris Nagle's AWT 2020 presentation (YouTube 2020) Cooling Towers, Legionellosis, and Water Management Programs [TRT 59:21] 
IWC-08-21 Cooling Towers, Drift, and Legionellosis (Page 30) 
CTI's TP20-19 Impact of Water Surface Tension on Drift Eliminators 
International Journal of Epidemiology in 1999, A Community Outbreak of Legionnaires Disease Linked To Hospital Cooling Towers, Calculating The Dose Of Exposure On Response 
Journal of Infectious Disease in 2006, A Community-Wide Outbreak of Legionnaires Disease Linked To Industrial Cooling Towers, How Far Can Contaminated Aerosols Spread 
CDC Philadelphia 1 LD Strain Update