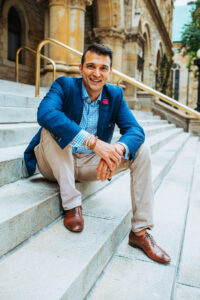 Any long-time listener will know that Rory Vaden's book "Procrastinate on Purpose" changed my life. I am a BIG fan of his books and talks and I know I'm not his only fan because millions of people watched his TEDx talk titled "Multiply your time by asking 4 questions about the stuff on your to-do list."
Rory is a professional speaker, author, and entrepreneur who has a childlike curiosity with regard to what makes people successful and influential, which allows him to kick to the curb old thought models and create entirely new ways of looking at how we spend our time. This curiosity and inner drive Rory generously shares with the world allows others to unlock their untapped potential and accomplish what they were put on the earth to do. He is electrifyingly passionate, has high EQ, and is always looking to make things better.
If you feel that there are never enough hours in the day and that you cannot afford to hire someone to take those exhausting tasks off of your plate, then I encourage you to listen to today's episode with an open mind because, if you act on what he teaches us today, it has the potential to change everything in your life for the better. 
Bottom line: Rory Vaden is going to teach you how to multiply your time. Yes, you read that right, I said "Multiply."
Your roadside friend, as you travel from client to client. 
-Trace 
Illustrations:
Rory mentions these two illustrations below during his interview.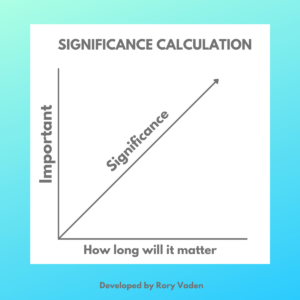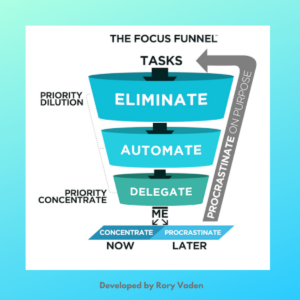 Timestamps: 
Get to know one of my favorite speakers and authors, Rory Vaden [6:30]
Rory's professional journey from Toastmasters to Brand Builders Group [10:18]
How to multiply your time [19:00]
The 30 X Rule [29:00]
What to delegate [35:00]
The emotion behind how you spend your time [45:24]
Lightning round questions [54:00]
James' Challenge: "Perform a dissolved oxygen study on boiler deaerator and feedwater."  [1:02:20]
The 6 F's: Faith, Fun, Fitness, Family, Faculty, Finances [1:04:00]
Quotes:
"You multiply your time by giving yourself the emotional permission to spend time on things today that create more time tomorrow." – Rory Vaden
"It is literally possible to multiply your time." – Rory Vaden
"Time management is much more emotional than we realize." – Rory Vaden
"The next level of results requires the next level of thinking, always." – Rory Vaden 
"Ask yourself: What are the things I can do today so I can make tomorrow better, faster, and more efficient?" – Rory Vaden
"Mom guilt is a real thing."  – Rory Vaden
"I am a fan of outsourcing everything." – Rory Vaden
"You should be willing to spend at least thirty times the amount of time it takes you to do a task once when training someone else to do that task for you. So if a task takes you 5 minutes every day, you should be willing to spend 150 minutes (30x) training someone else to do that one task." – Rory Vaden
Connect with Rory Vaden:
Email: info@brandbuildersgroup.com 
Website: www.roryvaden.com/media 
Social: roryvadenblog.com
Books Mentioned:
Procrastinate on Purpose – Rory Vaden
Take the Stairs  – Rory Vaden
Financial Peace University  – Dave Ramsey
Secrets of the Millionaire Mind –T. Harv Eker
The Go-Giver – John David Mann
The 21 Irrefutable Laws of Leadership – John C. Maxwell
The Greatest Salesman In the World -Og Mandino
The Five Dysfunctions of a Team – Patrick Lencioni
What To Say When You Talk To Your Self – Dr. Shad Helmstetter
The 7 Habits of Highly Effective People – Stephen Covey
The Case for Christ – Lee Strobel 
Links Mentioned:
Events:
AWT Business Webinar: Using a SWOT Analysis to Advance Your Business – @ 11AM ET November 18 
International Conference on Wastewater Treatment Processes and Water Quality – January 28 to 29 
Water & Wastewater Equipment, Treatment & Transport Show – February 21 to 24 
The Hang Networking Event– @6pm 1.13.22