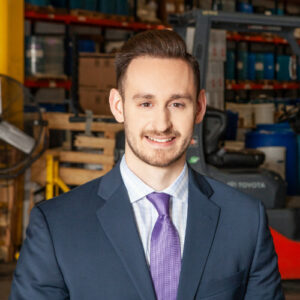 My lab partner today is someone the Scaling Up Nation can  learn a lot from: Michael Byerley of Global Water Technology, Inc. I met Michael several years ago, and I was instantly amazed by how put together and intelligent he was. His ability to learn and listen made a strong impression on me, that when I started the Rising Tide Mastermind, Michael was one of the first people I reached out to!
Michael Byerley started in the water treatment industry when he interned at Global Water Technology, Inc. in 2009. He eventually joined the company full time after graduating from Northwestern University. GWT was also founded by one of the few women in the industry, Michael's very own mother, Maria Villarreal-Byerley, in 1990. 
With years of experience under his belt, Michael was able to position GWT as a company that continually achieved high growth. GWT has grown 2,400% since 2011 and achieved an average annual growth rate of 42% the past nine years through high organic growth and the acquisition of nine companies. Michael has also expanded the reach of GWT to 26 states, established four terminals across the US, launched their headquarters, and started up many new high grossing product and service lines.
Aside from all of these achievements, Michael is also very proud of the work culture he helped to create at GWT. The company is committed to maintaining a positive employee and customer-first culture, transparency, communication, quality of service, and technical resourcefulness which his mother started 31 years ago. 
Bottom line: Michael Byerley is going to share his career journey working at a legacy water treatment company. 
Your roadside friend, as you travel from client to client.  
-Trace 
Timestamps: 
What don't you know [01:33]
Being born into Water Treatment[08:50]
Becoming an effective water treater [15:40]
Developing a learning mindset [19:21]
Joining the Rising Tide Mastermind [23:39]
Complimenting growth with acquisitions [28:40]
Lessons learned from acquiring 9 companies [35:14]
Advice to people just getting into water treatment [41:56]
Lightning round questions [43:50]
Thinking On Water With James [53:20]
Thinking On Water With James:
In this week's episode, we're thinking about ways to calculate Cycles of Concentration or, as some say, Concentration Ratio. How many ways can and do you calculate this useful number? Do you use conductivity?  Neutralized  or unneutralized conductivity for boilers? Total Hardness? Calcium Hardness? Magnesium Hardness? Chlorides? Silica? Total Alkalinity? Why can't you use pH? Can you use water meters? What are the benefits and disadvantages of each? What if the numbers from the various versions don't agree with each other? What added chemical products may interfere with the accuracy of the calculations? Take this week to think about Cycles of Concentration or Concentration Ratio and why it is more than just a number.
Quotes:
"People are not afraid if you don't know, they are more afraid if you don't communicate." – Michael Byerley
"If you simply say "Let me get back to you, or I don't know, or I'll refine my answer", they (your customers) can't poke a hole in that answer. They can only accept your honesty." – Michael Byerley
"Everyday in the water treatment industry is supposed to be a learning experience." – Michael Byerley
"I live my life by listening." – Michael Byerley
"Global Water Technology doesn't buy a company just for the sake of buying companies. We don't grow just for the sake of growing."- Michael Byerley
 "We want to make this all about the clients and the people." – Michael Byerley
"If you decide to go to water treatment, lean in. It is an industry like no other." – Michael Byerley
"There are not enough women in the water treatment industry." – Michael Byerley
Connect with Michael Byerley:
Phone: (301) 740-1421
Email: mbyerley@gwt-inc.com
Website: www.gwt-inc.com
LinkedIn: in/mbyerley1
Links Mentioned:
AWT (Association of Water Technologies)
Events:
IIAR 2021 Natural Refrigeration Conference & Expo – March 6 to 9 in Savannah, GA
AWRA 2022 Geospatial Water Technology Conference – March 21 to 23 in Austin, TX
2022 WEF Public Health and Water Conference & Wastewater Disease Surveillance Summit – March 21 to 24 in Cincinnati, OH
Books Mentioned: 
Greenlights by Matthew McConaughey