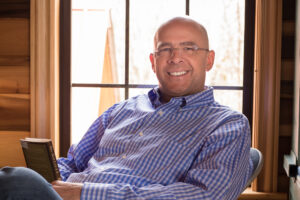 Today, I invited Aaron Walker AKA "Big A" back on the podcast to talk about his experience when he went on a two-month Sabbatical in 2021. 
As a business owner, Big A founded 14 companies over the past 42 years, and going on a Sabbatical was a difficult thing to consider. But with the persuasion of many of his Mastermind group members and his doctor, he went on a Sabbatical on November 1st, 2021, completely unplugging from everyone except his family for the rest of the year. Aaron has credited his wonderful team and his executive assistant to whom he delegated tasks for keeping his business on the right track while he stepped away for two months.
I've always thought that a Sabbatical is just a fancy word for rich people to take an extended vacation, but it was so much more. Aaron Walker opened my eyes to what Sabbaticals are truly about. More than that, I learned that the strength of the business isn't due to the strength of the business owner; the strength of the business lies with the team that the business owner has developed.
Bottom line: Aaron Walker will talk about his two-month Sabbatical and how it changed his life.
Your roadside friend, as you travel from client to client. 
-Trace 
Timestamps: 
Goal Setting with The "12-Week Year" [02:00]
Events in Water Treatment [04:31]
Welcoming Aaron Walker AKA "Big A" back to the podcast [08:00]
Aaron's Superpower: Giving hard advice in a caring and tactful way [10:33]
Deciding to take a Sabbatical and talking to the staff [15:15]
Dealing with the struggles of being a business owner stepping away from their business [18:45]
What is a good Sabbatical objective [24:36]
Aaron's day-to-day while on Sabbatical [26:50]
Aaron's advice to those who want to go on a Sabbatical [31:04]
How did Aaron's life, work, and relationships change post-Sabbatical [36:03]
Thinking On Water With James [47:21]
Thinking On Water With James: 
In this week's episode, we're thinking about how sodium hypochlorite, or bleach, controls microbiological growth? What's happening outside the microbiological cell? What's happening inside? What are the chemical species causing this? How much time is required to get effective microbiological control? How does pH impact these chemical species? Does the "reservoir effect" soften the impact of pH? Take this week to learn more about sodium hypochlorite and its impact on microbiological growth. 
Quotes:
"I help ordinary men become extraordinary."  – Aaron Walker 
"My life's vision is motivation. Helping other people achieve their goals and dreams." – Aaron Walker 
"You've gotta say hard things often, (even though) these are things you don't wanna say." – Aaron Walker 
"I think we're designed to be in a community. Humanity is designed to have other parts around you that can supplement where you are possibly weak."  – Aaron Walker 
"I went into business to be able to have a lifestyle that I wanted to live. I didn't go into business to be a slave to the job." – Aaron Walker 
"It was very telling of me, as an individual, taking a Sabbatical, because I'm really having time now to reevaluate things that I was doing, that I wasn't really aware of." – Aaron Walker 
"Because we're so busy and clouded with activities, we can't get to a point where we can really think through what we want to accomplish" – Aaron Walker
"You have to experience a Sabbatical on your own. No one can convince or talk anybody into doing it. It's a leap of faith." – Aaron Walker
"At the end of six weeks [the Sabbatical], I was fired up, I was rested, I had a plan, and I was ready to come back." – Aaron Walker
"Everybody can't do a Sabbatical initially, but you can set a target date to get yourself in a position to be able to do it." – Aaron Walker
"What I really learned out of the Sabbatical is really doing a deep dive with myself." – Aaron Walker
"I'm not where I want to be, but I'm a lot better off than I was." – Aaron Walker
"I was amazed by the depth of my thinking. I was able to think through what I wanted to accomplish."  – Aaron Walker
"We're so busy and so clouded with activities we cannot get to that level."  – Aaron Walker
"My Sabbatical in one word would be 'Energizing."  – Aaron Walker
"We're a lot better off being an inch wide and a mile deep because the riches are in the niches." – Aaron Walker
Connect with Aaron Walker:
Phone: (615) 207-3018
Email: aaron@viewfromthetop.com
Website: ironsharpensironmastermind.com
LinkedIn: in/aaronwalkerviewfromthetop
TuesdayNoon.Live with Aaron Walker ( Streaming Every Tuesday at 12 PM CST)
Links Mentioned:
244 The One About Water Treaters For Clean Water (with Steve Spear of Team World Vision)
184 The One Where I Interview My Mastermind Mentor (with Aaron Walker)
Events:
International Conference on Biological Wastewater Treatment Technologies and Systems – June 2 to 3 in New York, NY
NRWA In-Service Training – June 7 to 9 in Anaheim, CA
 Join Team Scaling UP! Nation or make a donation HERE
Books Mentioned:
The 12 Week Year by Brian P. Moran and Michael Lennington
Atomic Habits by James Clear