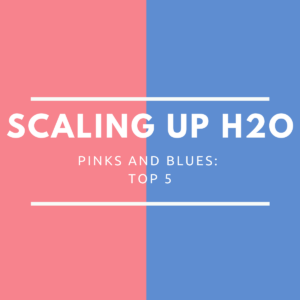 Five years ago, I recorded Episode 1 with my Bluetooth headset and sent it off for approval on Apple Podcasts. My primary goal when I made the first episode was to create something that industrial water treaters could listen to while they drove from account to account. I wanted to make something that would help water treaters expand their general water treatment knowledge. What I didn't expect when I launched Episode 1 was that this podcast would create a community of people with similar passions. Today, we are not only celebrating the fifth anniversary of the Scaling UP! H2O podcast, but also the fifth birthday of the Scaling UP Nation, our global community of water treaters.
It is an honor to celebrate this milestone with you. That's why in this episode, I am going to take a page from Atlanta's Morning News' Scott Slade, and share with you some of my favorite Top 5 lists in three categories: Community Wins, Books written by podcast Guests, and Inspiring Quotes. There were so many amazing guests and inspiring quotes so narrowing it down was a challenge. 
If you were making a list of the top 5 things about the podcast, what would they be? Please share your lists on social media with the hashtag #ScalingUpH2O .
The last five years are dear and near to my heart, and I'm looking forward to spending the next few years with the Scaling UP Nation by "Scaling up our knowledge, so we don't scale up our systems."
Bottom line: Happy 5th anniversary, Scaling UP Nation! 
Your roadside friend, as you travel from client to client.  
-Trace 
Timestamps: 
Happy 5th Anniversary, Scaling Up Nation! [00:50]
Thinking On Water With James [03:32]
5 Years Ago: The Beginning of the Scaling Up H2O Podcast [04:31] 
Top 5 Community Wins: Creating communities of passionate water treaters [09:04]
Top 5 Books Written by Podcast Guests: Some of my favorite Books [18:29]
Top 5 Inspiring Quotes: Quotes to pick you up and remind you that better is possible [37:42]
Thinking On Water With James: 
In this week's episode, we're thinking about whether you can rely upon the tracer to determine product concentrations in your water systems, or are there other ways to confirm? Should you be regularly testing beyond just tracers like PTSA? Can anything impact the tracer to make it an unreliable indicator of product levels and performance? How might time, biocides, etc. impact tracer levels? Even if the tracer levels are correct, what else may be happening in the water system to impact other product ingredients? Take this week to think more about the tracers you use and learn more about them. 
Quotes:
"A candle loses nothing by lighting another candle." – James Keller
"If you can dream it, you can do it." – Walt Disney
"You are the average of the 5 people you spend the most time with." – Jim Rohn 
"I've learned that people will forget what you said, people will forget what you did, but people will never forget how you made them feel." – Maya Angelou
"There are a thousand hacking at the branches of evil to one who is striking at the root." – Henry David Thoreau
"[When I first started the podcast], I created procedures. I will learn about a new topic as much as I can, and then I will write out procedures so I don't have to relearn it every time I go do it." – Trace Blackmore
"I learned that you don't need to be creative [when it comes to episode titles], you need to be simple, you need to find things that are repeatable, and people just understood what was going on." – Trace Blackmore
"Five years ago, Scaling UP H2O was born. [But] what was also born, was the Scaling UP Nation" – Trace Blackmore
"I started the podcast because I wanted a community. I wanted people to come together in an industry that people don't normally come together in." – Trace Blackmore
"I am so amazed and humbled and honored that I get to be the tribe leader of the Scaling UP Nation." – Trace Blackmore
"Ask big, because you can get answered big."  – Trace Blackmore
"I know what the intent is behind everything that I say, but the people that hear me say it, they have no idea what that intent is." – Trace Blackmore
"If you don't ask, you won't get. Never think that what you need is not important to someone else" – Trace Blackmore
Connect with Scaling UP H2O: 
Email: corrine@blackmore-enterprises.com (podcast producer)
Submit a show idea: Submit a Show Idea
Scaling UP! H2O on LinkedIn: company/scalinguph2o 
linkedin.com/in/traceblackmore
Scaling UP! H2O on Facebook: @H2OScalingUP
Links Mentioned:
Atlanta's Morning News – 95.5 WSB with Scott Slade
158 the One That's Virtually Live At 2020 AWT Conference
001 A New Podcast for Water Treaters
246 The One About How To Patent New Water Treatment Technologies  
029 The One with the Submarine Captain
039 The One That Will Change Your Sales Department
117 The One With Temperament Expert, Kathleen Edelman
179 Another One that Teaches Us to Communicate Better with Others
148 The One About The Big Thirst
164 The One With Chris McChesney
AWT (Association of Water Technologies)
Books Mentioned: 
Turn the Ship Around by Captain. L. David Marquet
The 7 Habits of Highly Effective People by Stephen R. Covey
The Machine: A Radical Approach to the Design of the Sales Function by Justin Roff-Marsh
I Said This, You Heard That Workbook by Kathleen Edelman
I Said This, You Heard That 2nd Edition by Kathleen Edelman
The Big Thirst by Charles Fishman
The 4 Disciplines of Execution by Sean Covey, Chris McChesney, & Jim Huling