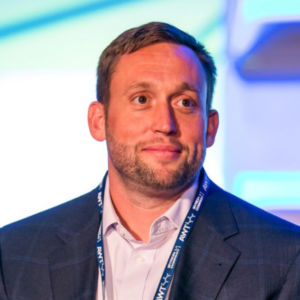 Brian Katarski loves using Lean Management techniques to continuously improve AquaPhoenix Scientific's warehouse. By using Lean Management at their warehouse, their team can quickly and effectively deliver orders to satisfied customers, layout their warehouse to keep their employees safe, and keep prices down by not over or under-ordering products for their shelves.
Brian Katarski is VP of Sales at AquaPhoenix Scientific and when he first started there was only a crew of 10 staff, now they are a company of over 300 people, and one of the ways they were able to grow was because they implemented Lean Management in their warehouse and across their company. 
In this podcast interview, Brian dives into these questions:
What are the foundations of Lean Warehouse Management?
How does a Continuous Improvement Warehouse Management system work? 
Why is Lean Warehouse Management important? 
What Lean systems and tools work best in warehouse management?
Why is inventory management important? 
What are the 8 Wastes of Lean Management?
What are the 5's of Lean Management?
What are the best tips when implementing Lean Management?
How do you help your team feel comfortable in the midst of constant change?
Bottom line:
Brian Katarski introduces Lean Warehouse Management tips and suggestions to help your water treatment company take tiny steps that will lead to big payoffs. 
Timestamps
Trace Blackmore encourages you to try something new and learn from your mistakes [1:00]
Upcoming Events for Water Treatment Professionals [5:00]
Periodic Water Table With James McDonald [9:30]
Interview with Brian Katarski VP of Sales at AquaPhoenix Scientific about his career journey [12:00]
Introduction to Lean Warehouse Management [20:00]
Brian's tips to keep yourself Continuously Improving and where to find Lean resources [52:00]
Quotes
"You need to recognize and own a process. It's not easy. Then you need to fix it and get help from someone outside of your organization who has experience, then make it a repeatable and sustainable practice." – Brian Katarski
"When you have a new problem to solve, get halfway to the goal you want to achieve, implement it, celebrate it, then keep going." – Brian Katarski
"If you make a mistake, great. Celebrate it. Win it. Let's move on. Make it better. You'll never make that mistake again." – Brian Katarski
"Have an open mind and be able to admit that you could be wrong." – Brian Katarski
"You have to help people get comfortable being uncomfortable." – Brian Katarski
"You will never get ahead if you stay in your comfort zone." – Brian Katarski
"Take the first step, recognize the problem, and do something about it. Make tiny little improvements; you'll be surprised how they add up." – Brian Katarski
Connect with Brian Katarski
Phone: 717-465-7859 
Email: bkatarski@aquaphoenixsci.com 
Company Website: aquaphoenixsci.com 
Education Website: aquaphoenixeducation.com
LinkedIn: linkedin.com/in/bkatarski
Read or Download Brian Katarski's Press Release HERE
Learn Brian Katarki's 7 Lean Warehouse Management Tips HERE
Links Mentioned
Episode 257 The One About Lollipop Moments with Drew Dudley
Join our Global 6K Team for clean drinking water
Scaling UP! H2O Academy video courses
AWT (Association of Water Technologies)
2023 Events for Water Professionals
Check out our Scaling UP! H2O Events Calendar where we've listed every event Water Treaters should be aware of by clicking HERE or using the dropdown menu.
Books Mentioned
The Goal by Eliyahu M. Goldratt 
Discipline Equals Freedom: Field Manual by Jocko Willink 
The Dichotomy of Leadership: Balancing the Challenges of Extreme Ownership to Lead and Win by Jocko Willink 
Never Split the Difference by Chris Voss
This Is Day One by Drew Dudley
Periodic Water Table With James McDonald
Not just a dietary supplement, but an industrial water treatment chemical, too. What is zinc used for in water treatment? How does it function? Does zinc work better alone or along with other water treatment chemicals? How does pH impact zinc, and what can be done about it? What's a typical dosage level for zinc? What could happen if it is overfed? How about underfed? Are there any restrictions that may prevent the use of zinc? Do any of the products you currently use have zinc in them? Can you test for zinc in the field? If so, how?