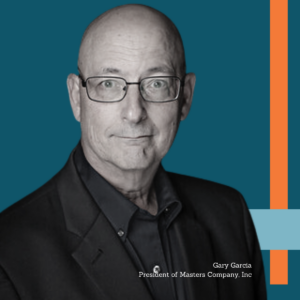 Welcome to a special episode of the Scaling UP! H2O podcast, where we delve into the world of water industry updates in 2023. Join us as we navigate through the challenges faced by water professionals and explore the ever-evolving landscape of industrial water treatment.
In this insightful discussion, our esteemed guest, Gary Garcia, President of Masters Company, Inc, returns for his third guest appearance to share his wealth of knowledge and expertise. Together, we uncover key updates in the water industry, offering valuable insights into supply chain dynamics, financial outlooks, and the impact of a changing workforce. 
Discover the implications for investors eyeing water treatment companies or family members planning to inherit such businesses in the near future. Gary sheds light on the graying of the industry and how it shapes our strategic decisions. 
This episode is a treasure trove of essential information for listeners seeking to anticipate the future of our industry over the next two years. Gain valuable insights to empower your financial planning and navigate the evolving landscape with confidence.
Tune in today as we honor Gary Garcia, the recipient of the prestigious Ray Baum Memorial Award in 2022. Explore everything from practical tips on reducing shipping costs to Gary's pioneering work in developing new phosphonate testing standards. Don't miss out on this eye-opening conversation that will reshape your perspective on the future of the water industry. Join us as we embrace the challenges, celebrate the achievements, and envision a brighter future together. 
Timestamps
Trace Blackmore shares 10% off the CWT Prep Course with you. Visit scalinguph2o.com/cwtprep  and use code "CWT10" at checkout  [1:00]
Upcoming Events for Water Treatment Professionals [7:00]
Interview with Gary Garcia, Technical Director at LiquiLogic [11:00] 
Lightning round questions [40:00]
Periodic Water Table With James McDonald [45:30]
Quotes
"I have an inquisitive nature, and I love to investigate, and I'm not afraid of failure." – Gary Garcia
"When you allow other people to communicate, you learn, and the more you learn the better it is." – Gary Garcia
"In my humble opinion, the marketplace should be conservative. You've seen some things get better, some prices come down, availability and some raw materials have improved, but overall, I'm still rather pessimistic about the next two years."  – Gary Garcia
"If you can get raw materials supplies, great, but be prepared to continue to pay a higher price for the most part."   – Gary Garcia
"There is a graying of the industry." – Gary Garcia
Connect with Gary Garcia
Phone: 630.238.9292
Email: gary@masterscoinc.com
Website: www.masterscoinc.com 
LinkedIn: in/garret-garcia-8838bb206/
Links Mentioned
Ep 206 Raw Materials Supply Chain Update Roundtable
Ep 221 The One That's All About Customer Solutions In A Drum
Scaling UP! H2O Academy video courses
AWT (Association of Water Technologies)
2023 Events for Water Professionals
Check out our Scaling UP! H2O Events Calendar where we've listed every event Water Treaters should be aware of by clicking HERE or using the dropdown menu.
Periodic Water Table With James McDonald
I like how that one roles off the tongue… hexametaphosphate.  So, what is Sodium Hexametaphosphate used for?  What's its chemical formula?  What systems is it used within?  What dosages are used for Sodium Hexametaphosphate?  When used as a corrosion inhibitor, does it function as an anionic or cathodic corrosion inhibitor?  When used for scale inhibition, is it considered a stoichiometric or threshold scale inhibitor?  Does pH have an impact upon its performance?  How do you test for it and does the test required differ according to which water system it was used within?  What is the acronym used for Sodium Hexametaphosphate?