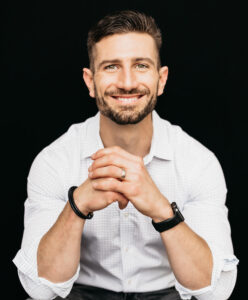 What if you could shape the future of your business exactly as you desire? Imagine having clarity on what you truly want from your business and envisioning its trajectory even after you leave. Would you choose to maintain it as a thriving financial asset, allowing you to bask in the sun at the beach while escaping the daily grind? Or perhaps you adore the day-to-day operations but crave the freedom of being financially secure. If you find yourself unsure about how to navigate forward or explore the exit options available to you, then this podcast episode is an absolute must-listen.
Your future awaits, and the only thing missing is your decision on what that future looks like. Every business owner has their own hopes and dreams of the future, which is why Ryan Tansom, founder of Arkona, built his company. He helps business owners "Get clear on what they want their leadership role to be, and how they want it to evolve on the way toward your target equity valuation." Once that is nailed down, business owners can "Clarify a target equity valuation they want at a point in the future as well as the income they want along the way." When Ryan is involved in the Intentional Growth plan, it will "Save money and reduce conflict with any stakeholders (partners, investors, family members) by getting alignment on your long-term goals." So why wait, let's start planning your future. 
Your future awaits, and the power to shape it lies within your hands. As a business owner, you hold unique hopes and dreams for what lies ahead. Understanding this, Ryan Tansom, the visionary founder of Arkona, established his company to guide entrepreneurs like you. His mission is to empower business owners to gain clarity on their desired leadership roles and envision the evolution toward their target equity valuation.
By working with Ryan and embracing the Intentional Growth plan, you can embark on a transformative journey. First, you will define the precise nature of your leadership role and chart its evolution in alignment with your objectives. Simultaneously, you will determine a target equity valuation for the future, as well as the income milestones you wish to achieve along the way. This strategic clarity not only paves the path to your desired financial outcomes but also serves as a catalyst for savings and minimizes conflicts with critical stakeholders such as partners, investors, and family members. Through the Intentional Growth Framework, you can forge alignment on your long-term goals, fostering a harmonious and prosperous business ecosystem.
Why wait any longer? The time has come to embark on this transformative journey and shape the future you envision for your business. Let's scale up on knowledge today and start planning the extraordinary future that awaits you.
Timestamps
Trace Blackmore shares 10% off the CWT Prep Course with you. Visit scalinguph2o.com/cwtprep  and use code "CWT10" at checkout  [1:00]
Upcoming Events for Water Treatment Professionals [5:00]
Periodic Water Table With James McDonald [8:40]
Interview with Ryan Tansom, the visionary founder of Arkona [11:00] 
Lightning Round Questions [49:00] 
Quotes
"Intentional Growth: Purposeful action toward a clearly identified outcome." – Ryan Tansom
"When you own your own business, there is no Plan B, it's all on you." – Ryan Tansom
"Think about your company as an asset: monetize when and how we want without sacrificing what's important to us." – Ryan Tansom
"It is possible to engineer the outcome that you want as long as your expectations and reality around time, capital, and energy are aligned with your goal." – Ryan Tansom
"What is your existing goal: What do you want from the business and why come up with a target equity valuation you want at a point in time? What do you want your leadership role to evolve to on the way to your exit?"  – Ryan Tansom
Connect with Ryan Tansom
Phone: 612.720.6530
Email: ryan.tansom@arkona.io
Website: arkona.io
Podcast: arkona.io/podcasts  
LinkedIn: in/ryan-tansom-4a440710/
Facebook: @ryan.tansom
Twitter: @RyanTansom
Read or Download Ryan Tansom's Press Release HERE
Links Mentioned
Scaling UP! H2O Academy video courses
2023 Events for Water Professionals
Check out our Scaling UP! H2O Events Calendar where we've listed every event Water Treaters should be aware of by clicking HERE or using the dropdown menu.
Books Mentioned
Finish Big: How Great Entrepreneurs Exit Their Companies on Top by Bo Burlingham 
Small Giants: Companies That Choose to Be Great Instead of Big by Bo Burlingham 
Start a Successful Business (Inc. Magazine): Expert Advice to Take Your Startup from Idea to Empire by Colleen DeBaise 
Buy Then Build: How Acquisition Entrepreneurs Outsmart the Startup Game by Walker Deibel 
The Psychology of Money: Timeless lessons on wealth, greed, and happiness by Morgan Housel 
Why We Sleep: Unlocking the Power of Sleep and Dreams by Matthew Walker 
Magicians of the Gods: The Forgotten Wisdom of Earth's Lost Civilization by Graham Hancock
Thinking Fast And Slow by Daniel Kahneman
The Advantage by Patrick Lencioni 
Podcasts Mentioned
Periodic Water Table With James McDonald
Sulfuric Acid: What are all its uses in industrial water treatment, for both water treatment and testing?  What is its chemical formula and molecular weight?  When used for pH control in cooling towers, what is the feed ratio of sulfuric acid to alkalinity?  What can happen when sulfuric acid is overfed?  How does the density of sulfuric acid compare to water?  What concentrations of sulfuric acid are used in water treatment?  When combining acid and water, which should be added to which?  Should acid be added to water or vice versa?  What are the consequences if you get this wrong?  Can feeding sulfuric acid actually cause scale formation?  What alternative acids are available?  Can bacteria produce sulfuric acid?