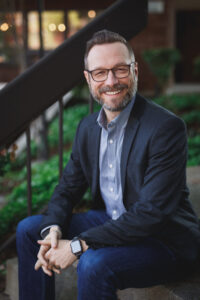 Welcome back to Scaling UP! H2O, where we have the pleasure of hosting Tim Cooper, Principal Consultant at The Table Group and founder of Cooper Coaching. With over 15 years of Team Leadership experience and an impressive client list, including Renaissance Learning, Chick-fil-A, Southern New Hampshire University, and Ørsted, Tim brings a wealth of knowledge to the table.
In this captivating episode, Tim delves into the fascinating world of The 6 Types of Working Genius. These six distinct gifts are essential for any group striving to achieve their goals: The Genius of Wonder, The Genius of Invention, The Genius of Discernment, The Genius of Galvanizing, The Genius of Enablement, and The Genius of Tenacity. Discover what these Working Geniuses are and how you can leverage this understanding to enhance your leadership skills, teamwork, and personal growth.
Tim's approach to consulting is driven by building strong relationships and addressing challenging interpersonal dynamics within the teams he supports. With a focus on cultivating healthier relationships within executive teams that positively impact the entire organization, Tim's expertise is unrivaled.
Passionate about the intersection of Organization Health and the interplay between Smart and Healthy Organizations, Tim considers The 6 Types of Working Genius the ultimate tool for boosting team morale, productivity, and overall organizational health. Join us now as Tim shares practical insights that will empower you to become a better version of yourself and lead your teams to unprecedented success.
Bottom line: Healthy teams result in higher productivity. Tim Cooper will take listeners on a deep dive to learn how they can use The 6 Types of Working Genius to promote Organization Health .
Timestamps
Trace Blackmore challenges you to take the first step in the right direction[1:00]
Returning guest Tim Cooper shares how The 6 Types of Working Genius promote Organization Health, prevent burn out, show where gaps are in our projects, and allow everyone on your team to do what they love so they can do more together [7:00]
Lightning Round Questions [1:08:20]
Defining a healthy team and organization [1:11:00]
Upcoming Events for Water Treatment Professionals [1:18:00]
Periodic Water Table With James McDonald [1:20:00]
Quotes
"What's the healthiest, most sustainable way to work for the long-haul?" – Tim Cooper
"The work I do helps teams get over the 'invisible walls' that they bump into and don't realize they're doing so because those 'invisible walls' are the things that are hardest to identify, so Working Genius is one of those things that makes those walls visible and helps us to understand how to work better with each other, which just makes for a better work environment all around. It's about getting work done." – Tim Cooper
"When something is a frustration, we tend to shortcut or really shortchange how much work is required to get that stuff done. One way to solve this is to surround yourself with people that are great at that thing that frustrates you so I don't pull those shortcuts often and sacrifice the quality of work." – Tim Cooper
"When you are working on a project and skip a stage, you skip people. When you skip people at work, they feel skipped at work. Nobody wants to feel skipped over at work. People don't leave jobs because the strategies are off or the tech isn't as good as it is somewhere else, they leave jobs for emotional reasons. They leave when they feel skipped over, or the workplace is too confusing, or they don't know what their role is, or how to feel successful in the workplace." – Tim Cooper
"Organizational Health is a condition not a destination. We're never going to get there, but you can be moving in the direction of it starting now." – Tim Cooper
Connect with Tim Cooper
Phone: 678.327.7460
Email: tim.cooper@tablegroupconsulting.com
Website: www.tablegroup.com
https://www.workinggenius.com/
LinkedIn: in/tim-cooper-80bab0143
Read or Download Tim Cooper's Press Release HERE
Know your and your team's Working Genius! – Buy the Assessment Now! (for a limited time use code "SUMMERSALE" to get 25% off)
The 6 Types of Working Genius book: A Better Way to Understand Your Gifts, Your Frustrations, and Your Team by Patrick Lencioni
The Working Genius Podcast with Patrick Lencioni
Links Mentioned
Episode 259 The One About The 6 Types of Working Genius with Tim Cooper
Scaling UP! H2O Academy video courses
AWT (Association of Water Technologies)
2023 Events for Water Professionals
Check out our Scaling UP! H2O Events Calendar where we've listed every event Water Treaters should be aware of by clicking HERE or using the dropdown menu.
Books Mentioned
The 6 Types of Working Genius by Patrick Lencioni
The 5 Dysfunctions of a Team by Patrick Lencioni
The Ideal Team Player by Patrick Lencioni
I Said This, You Heard That Workbook by Kathleen Edelman
I Said This, You Heard That (2nd Edition) by Kathleen Edelman
Periodic Water Table With James McDonald
Okay, I almost always ask this, but what is Polyaluminum Chloride used for? What is its chemical formula? Does Polyaluminum Chloride come in a solid or liquid form? What does it remove? How does it compare to other aluminum compounds? What dosages or ratios are recommended? What could happen if you overfeed Polyaluminum Chloride? What could be the impact downstream?