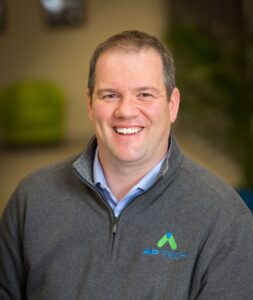 Join host Trace Blackmore in an exhilarating episode of Scaling UP! H2O as he delves into the world of solid dissolver technology with industry experts Matt Horine and Matt Haikalis from APTech Group Inc. Discover the transformative power of this innovative approach as they discuss the benefits, applications, and practical considerations of transitioning to solid chemistry solutions.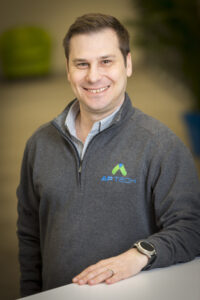 Join Matt Horine and Matt Haikalis as they unravel the potential of solid dissolver technology, revolutionizing water treatment practices and paving the way for more efficient and effective solutions. Tune in to this episode of Scaling UP! H2O for an enlightening exploration of the future of water treatment.
Key Questions Explored
Winning AWT's Supplier of the Year – what was that process like? (7:50)
How did APTech Group start? (11:30)
How is solid chemistry different from liquid chemistry? (13:00)
Can any system convert to a solid product system? (17:30)
What equipment is needed to use solid technology? (19:55)
How do you know the product is dissolving? (21:50)
What pressure requirements are needed for the dissolvers? (26:50)
Who is requiring solid chemistries for safety these days? (28:20)
What's the difference in volume between a liquid and a solid product? How much space is saved? (29:50)
What are the top 5 troubleshooting advice for those looking to start using solid chemistries? (32:00)
How can you determine the amount of water you are treating with an app? (36:00)
Connect with Matt Horine
Phone: 513.247.2461
Email: matt.horine@aptechsolids.com
Website: www.aptechgroup.com
LinkedIn: in/matt-horine-20aa157
Read or Download Matt Horine and Matt Haikalis' Press Release HERE
Connect with Matt Haikalis
Phone: 513.748.1815
Email: matt.haikalis@aptechsolids.com
Website: www.aptechgroup.com
LinkedIn: in/matt-haikalis-cwt-4b573025/
Read or Download Matt Horine and Matt Haikalis' Press Release HERE
Links Mentioned
Learn more about APTech's products and technologies by visiting www.aptechgroup.com
Scaling UP! H2O Academy video courses
AWT (Association of Water Technologies)
2023 Events for Water Professionals
Check out our Scaling UP! H2O Events Calendar where we've listed every event Water Treaters should be aware of by clicking HERE or using the dropdown menu.
Periodic Water Table With James McDonald
What are polyphosphates?  What are some examples of polyphosphates used in industrial water treatment?  What function do they serve?  Are they corrosion inhibitors or scale inhibitors or both or neither?  How do they work?  What pH range are polyphosphates most effective?  Are they synergistic with any other water treatment chemicals?  Can polyphosphates revert back to phosphate?  What factors can increase this reversion?  Do you use any chemical products with polyphosphates in them?
Key Quotes
"Our solid products differ from liquid formulations as we incorporate all active ingredients derived directly from raw materials. We handle solubility and neutralization in-house, resulting in highly active and functional chemistries that perform exceptionally well." – Matt Haikalis
"When considering a solid product system, it's essential to assess the right equipment and factors such as chemical management, handling, logistics, and disposal. Solids can alleviate these challenges and streamline processes." – Matt Haikalis
"Utilizing our solid technology is remarkably simple. Whether through a filter feeder or a tower base, applying the product and generating enough spray with pressure enables rapid dissolution and solution creation." – Matt Haikalis
"By equipping water treaters with effective tools and knowledge, we can elevate the industry and enhance product utilization. It's about empowering individuals to achieve exceptional results." – Matt Haikalis
"In our evolution over the past five years, we aimed to be known as a resource within the water treatment community. Our staff, with their industry experience and scientific expertise, enables us to provide valuable insights." – Matt Horine
"Our concentrated solid treatments offer a remarkable advantage, being 4-6 times more potent than most liquid treatments. Additionally, our products never freeze, which is a significant benefit in colder climates." – Matt Horine