Are you ready to elevate your expertise and tackle the Certified Water Technologist (CWT) exam? Join us for an engaging episode that promises to supercharge your CWT study journey without adding additional stress!
Trace Blackmore and Justin Reyes, Regional Manager at EAI Water, share their best advice for taking the CWT exam, unveiling a treasure trove of insights and expert strategies.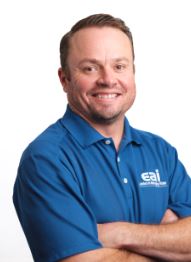 Tune in to discover:
Behind-the-scenes insights into EAI's leadership team's CWT preparation.

Managing time constraints and exam jitters for a stress-free test-taking experience.

A sneak peek into the exam center setting and do's and don'ts for the test day.

Unlocking your reference materials' potential for optimum preparation.

Justin's empowering advice for confidence-boosting.

Tailored testing strategies for technical degree holders.

EAI's recognition and rewards for accomplished CWTs.

Justin's personal recommendation:

The Scaling UP! H2O CWT Prep Course

.
Trace and Justin's wisdom will steer you towards triumph as you embark on your mission to become a Certified Water Technologist. Scale up your knowledge today by tuning in to this career boosting episode. 
Timestamps
Trace Blackmore challenges you to get your Certified Water Technologist designation this year [1:00]
Getting to know Justin Reyes, Regional Manager at EAI Water [6:00]
Getting your Certified Water Technologist designation [13:00]
Lighting Round Questions [41:30]
Upcoming Events for Water Treatment Professionals [49:30]
Periodic Water Table With James McDonald [51:05]
Even more Events for Water Treatment Professionals [52:00]
Quotes
"There's over 5,000 questions that could appear on your CWT Exam; everyone's test will be unique." – Trace Blackmore
"I enjoyed the CWT Prep Course and felt well prepared after taking it." – Justin Reyes 
"For your slow test takers, be careful. The clock never stops during the exam."  – Justin Reyes 
"Even if you don't pass it, it's a win because you are getting experience. You have a laser focused study approach when you retake it." – Trace Blackmore
"We believe in compensation. We encourage people to take the exam. We give employees a bonus for passing, and achieving, and becoming a CWT, and a merit increase or a pay raise too once they achieve it as well. As a company, we're putting our money where our mouth is by encouraging people to get their CWT and rewarding them as well."  – Justin Reyes
Connect with Justin Reyes
Phone: 909.841.7476
Email: jnreyes@eaiwater.com
Website: eaiwater.com
LinkedIn: in/justin-reyes-6118a7184/
Links Mentioned
Episode 297 The Latest About Getting Your CWT (with Chris Golden)
Episode 262 The One About Hiring the Best Water Treaters (with Chris Bellizzi)
Episode 198 The One Where We Revisit The Entrepreneurial Operating System (with Mark Winters)
Episode 146 The One Where We Bring EOS and Sales Together (with Adam Shapiro)
Episode 85 The One With The Business Operating System (with Mike Paton)
Episode 38 The One That Shows Us How To Run Our Business (with Mark Winters)
Scaling UP! H2O Academy video courses
AWT (Association of Water Technologies)
2023 Events for Water Professionals
Check out our Scaling UP! H2O Events Calendar where we've listed every event Water Treaters should be aware of by clicking HERE or using the dropdown menu.
Books Mentioned
What the Heck Is EOS?: A Complete Guide for Employees in Companies Running on EOS by Gino Wickman
The Five Dysfunctions of a Team: A Leadership Fable by Patrick Lencioni
The Jack Reacher by Lee and Andrew Child
Periodic Water Table With James McDonald
Today's topic is a little basic, but what is borate?  What is it used for?  What's its chemical formula?  Is there only one?  How are borate and borax related?  In what products is borate used?  What are typical dosages for borate?  How do you measure the level of borate within a system?  What are common pH levels maintained when using borate?  What could a high level of borate but a low level of nitrite indicate in a closed loop system?