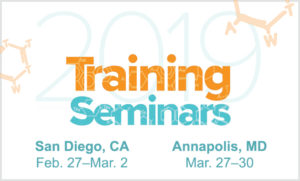 When was the last time you spent time out of water treatment to work on water treatment?  Sometimes you must take yourself out of the work you are doing so you can do the work you are doing better. The AWT's Technical Training is the best opportunity available for this purpose.
Whether you're a professional in the water technology field, a supervisor, or the owner of a company, the Association of Water Technologies (AWT) Technical Training Seminars are an investment that will pay off.
Professionals — We will teach you the latest technologies and best practices that will help you advance in your career.
Supervisors — You'll benefit from your staff's increased knowledge and productivity.
Company Owners — Your company's reputation, customer loyalty, and bottom line will soar as your employees provide your clients with better service and you see increased sales.
---
Courses Available 
Sales Training
Recognizing that everyone in the water treatment industry is actually selling, this course will take you from the basics to a full understanding of the process as it relates to this industry. This interactive "how to" session will give you the practical knowledge you will need to develop yourself, your business, and your brand. You will learn about basic and advanced marketing, including how to identify your company's values and discover and develop your brand image.
Polymeric-Membrane Separation Technologies RO/Ultrafiltration Training
This one-day in-depth course is suited for anyone looking for a better understanding of commercial and industrial reverse osmosis, ultrafiltration, EDI, or related membrane technologies.
Fundamentals and Applications Training
The Fundamentals and Applications course is designed for service technicians new to the industry. This highly interactive class brings the mechanical room into the classroom and focuses on real-world examples; attendees learn directly from leaders in the industry as well as their peers. The curriculum allows for question and answer sessions and fosters learning in a collaborative environment, providing attendees with the knowledge and theory behind the "whys" of their role in water treatment.
Water Treatment Training
This intensive three-day training covers regulatory and safety issues, water chemistry and testing, calculations, boiler water treatment, cooling water chemistry, advances in Legionella methods and regulations, and much more.
Wastewater Training (Every other year)
This comprehensive three-day course will cover all aspects of wastewater treatment, including influent and effluent clarification, solids removal and dewatering, chemical application, and how to screen products for application. If your company has passed on wastewater treatment applications because you lack the knowledge to take advantage of these opportunities, now is the time to gain this knowledge and expand your business potential!
Visit   www.pearsonvue.com/awt  for more information.
Questions answered in this episode:
I've already been, should I go again?
Should I go to both (east and west)
How do I make the most out of going?
How do I convince my boss to make the investment in me?
How do I ensure my employees pay attention and bring something back?
When should I schedule my CWT Examination after taking the seminar?
Timestamps:
2019 Goals [0:00:28]
Technical Trainings [0:01:15]
Questions you have before certification [0:01:51]
Upcoming Agenda/Schedule [0:03:02]
Opportunities from Technical Training [0:07:05]
Common Questions [0:09:12]
Best Legionella Seminar [0:21:36]
Quotes:
"The people attending the training seminars are your peers and if you are going just to learn, you are missing 50% of the opportunity there. Take time to meet them." -Trace Blackmore
"There are people that can help you be a better water treater and you can help them be a water treater as well." -Trace Blackmore
"When you start investing in yourself (with time/money/keeping commitments to yourself), there is only one thing that can happen. You become better in what you are trying to do."  -Trace Blackmore