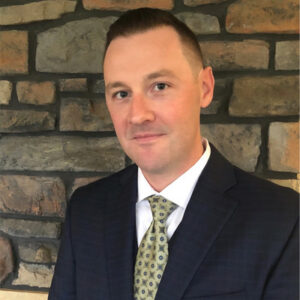 In Episode 188, Shawn McGrade talked about why you should consider a career in Water Treatment, and because so many of YOU wrote in to our producer asking for him to come back on the show, I am bringing him back for a second interview. Shawn works in Sales at Kurita America and is continuously proving himself to be a Versatile Salesperson through personal and professional developments. When not working as a Water Treater, Shawn spends his time catching giant fish and volunteering as a firefighter and EMT in Minnesota. 
Today, Shawn and I will discuss the changes in his career since I last had him on the show, why attending conferences, technical trainings, and any additional offerings through your employer is important,, and some personal and professional development tools you should know about and take advantage of. 
Bottom line: If you are considering a career in water treatment and don't know what opportunities it has to offer, Shawn McGradehas some valuable knowledge to share with you. 
Your roadside friend, as you travel from client to client. 
-Trace 
Timestamps: 
What is a "Career" and upcoming events [03:56]
Bringing back one of our most-listened to podcast guests, Shawn McGrade [10:21]
What has changed since Shawn was last in the podcast? [12:40]
Why you should lean into our industry's educational opportunities [16:00]
Tips for successfully closing accounts [21:31]
Understanding how to speak your client's language [25:26]
Personal and professional development tools [33:19]
The benefits of getting involved in the water treatment community [39:05]
A firefighting water treater [40:36]
What to know if you are considering  a career in Water Treatment [44:29]
Lightning round questions [48:36]
Thinking On Water With James [56:00]
Thinking On Water With James:
In this week's episode, we're thinking about the correct way to install a cooling tower blowdown meter. First, what type of meter should one use? Do you know the options available and the pros and cons of each? Then, how should the blowdown water meter be installed? Vertically? Horizontally? Does the meter need to be continually flooded? Is freeze protection an issue? Can the meter communicate with a controller to log the data? Why would a blowdown meter be a handy thing to have? Take this week to think about cooling tower blowdown meters and how they should be installed. 
Quotes:
"As Water Treaters, one of the most challenging things is trying to explain to our friends and families is what we actually do." – Shawn McGrade
"Don't shy away from being intimidated and not knowing enough" – Shawn McGrade
"I want to learn and learn and learn, I want to be a forever learner." – Shawn McGrade
"With sales effort, diligence, self-discipline, and planning sales time within your day will allow you to reap the rewards." – Shawn McGrade
"Get in front of people, and see how you can help them." – Shawn McGrade
"Sales is a numbers game and you've gotta be diligent and make it a priority." – Shawn McGrade
"Having that curious spirit or being a forever learner has helped me the most in my Personal Development and Growth." – Shawn McGrade
"Water Treatment is like an onion, there are layers upon layers, and you can just keep peeling it back, and you'll never know it all. None of us will ever know everything there is to know in water treatment" – Shawn McGrade
"The best way to learn something is to teach it to others." – Shawn McGrade
"For those new to the industry, and are scared to go out there because they think they don't know enough, the Fundamentals and Applications Course at the AWT Technical Training is designed for them." – Shawn McGrade
Connect with Shawn McGrade:
Email: s.mcgrade@kurita-water.com
Phone: 651-788-2185 
Website: www.kuritaamerica.com
LinkedIn: in/shawn-mcgrade-08187114a
Recent Article: Using Film-Forming Amines for Water Treatment
Links Mentioned: 
Using Film-Forming Amines for Water Treatment article by Shawn McGrade
Email The Scaling UP! H2O team: corrine@blackmore-enterprises.com (podcast producer)
188 The One To Listen To If You Are Considering Becoming A Water Treater
117 The One With Temperament Expert, Kathleen Edelman
179 Another One that Teaches Us to Communicate Better with Others
AWT (Association of Water Technologies)
AWT's Student Education and Enhancement Development (SEED) Program
The Versatile Salesperson (VSP) by Wilson Learning
The Counselor Salesperson (CSP) by Wilson Learning
Articles Mentioned:
Using Film-Forming Amines for Water Treatment by Shawn McGrade
Books Mentioned:
I Said This, You Heard That (Workbook) by Kathleen Edelman
I Said This, You Heard That (2nd Edition) by Kathleen Edelman