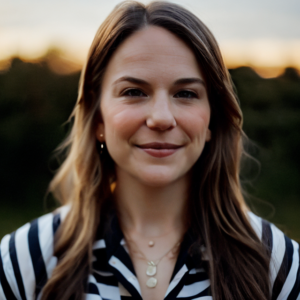 Are you curious about the myriad career paths available within the realm of water? Join your host, Trace Blackmore, CWT, on an engrossing journey as he engages in a riveting conversation with Chelsea Farmer, the brilliant Product Manager at Radical Polymers and a distinguished recipient of AWT's esteemed Rising Star Award.
In this episode, we unveil Chelsea's unique expedition into the industry. Raised in a family deeply rooted in water knowledge and technology, Chelsea's trajectory into water wasn't entirely unexpected. Yet, armed with a recent degree in chemistry, biology, and entomology, her venture into the field took an unforeseen turn. Discover how Chelsea's diverse skill set, coupled with the allure of growth, propelled her into becoming a pioneer within this dynamic industry.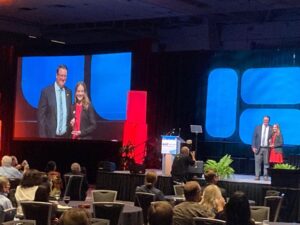 Step into Chelsea's laboratory and witness the nexus of experimentation and ingenuity, shaping the future of water treatment technologies firsthand.
Embark on a journey through the revolutionary realm of Tagged Polymers, as Chelsea unveils their game-changing potential—enabling meticulous tracking and profound customer insights.
Unveil the secrets of new product development as Chelsea unravels the complexities, triumphs, and exhilarating odyssey of innovation.
Delve into the meticulous testing protocols that underpin product effectiveness, pushing industry benchmarks to new heights and ensuring utmost customer satisfaction.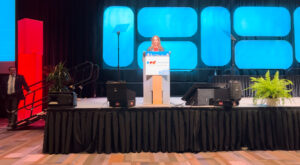 Chelsea casts a retrospective gaze on the industry's most transformative breakthroughs, offering a tantalizing glimpse into its remarkable evolution.
Engage in an insightful dialogue about the industry's deliberate pace of transformation and the myriad factors that mold its trajectory.
Peer into the future of water treatment as Chelsea paints a compelling picture of forthcoming prospects, providing an all-encompassing view of the industry's boundless expansion.
Whether you're navigating your career path, contemplating shifts, or seeking to enrich your water treatment acumen, Chelsea's wealth of experience and expertise promises a trove of insights for every podcast enthusiast.
Chelsea Farmer's narrative, woven with unexpected twists and unwavering passion, shines a beacon on the limitless potential within industrial water treatment.
Timestamps
1:00 – Upcoming Events for Water Treatment Professionals 
8:00- Captain H2O invites everyone to celebrate Industrial Water Week 2023 
13:00 – AWT Convention and the AWT Rising Star Award 
18:00 – Interview with Chelsea Farmer, Product Manager at Radical Polymers about Career Possibilities in Industrial Water Treatment 
44:00 – Sponsoring the Scaling UP! H2O Podcast
49:00 – Periodic Water Table With James McDonald 
Quotes
"I never planned to work in this industry. I majored in chemistry and biology and went to grad school for entomology. When I finished graduate school I realized there was a great opportunity to learn a lot of new skills and there was a lot of room for growth and development in this industry. It has been a great opportunity, I've grown a lot and learned a lot." – Chelsea Farmer
"There's room for everybody out there in this field." – Chelsea Farmer
"I'll never be done learning in this industry." – Chelsea Farmer
Connect with Chelsea Farmer
Phone: 423.883.1901
Email: chelsea.farmer@radicalpolymers.com
Website: www.radicalpolymers.com 
LinkedIn: company/radicalpolymers
Read or Download Chelsea Farmer's Press Release HERE
Links Mentioned
Industrial Water Week is Oct 2-6
Scaling UP! H2O's Industrial Water Week Resources Page
Episode 224 with Laith Charles
Scaling UP! H2O Academy video courses
AWT (Association of Water Technologies)
2023 Events for Water Professionals
Check out our Scaling UP! H2O Events Calendar where we've listed every event Water Treaters should be aware of by clicking HERE or using the dropdown menu.
Books Mentioned
The Liberal Redneck Manifesto: Draggin' Dixie Outta the Dark by Trae Crowder, Corey Ryan Forrester, Drew Morgan
Calypso by David Sedaris
Standard Methods for the Examination of Water & Wastewater, Centennial Edition
Periodic Water Table With James McDonald
How is hydrochloric acid used in industrial water treatment?  How is its dosage controlled?  How is its concentration measured?  Is hydrochloric acid ever produced as a byproduct from other industrial water treatment applications?  What are recommended safety precautions when handling hydrochloric acid?  Why would hydrochloric acid be used instead of sulfuric acid in some pH control applications?  Are there material compatibility concerns when storing, pumping, and applying hydrochloric acid that you need to know?  How will the use of hydrochloric acid impact the level of chlorides in a water system?  Why is it sometimes called muriatic acid?