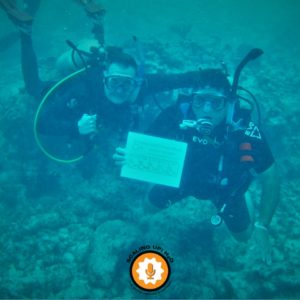 This episode is all about lessons learned from when your friend, Mark Lewis, CWT, comes to your office.  You see, Mark and I are both SCUBA Divers.  We decided that we were going to celebrate Industrial Water Week by going SCUBA Diving in The Florida Keys.  Pretty great idea, huh?  You might have even seen the post we did during Industrial Water Week letting you know what we were doing.  
As it turned out, Mark had other plans in addition to going SCUBA Diving with me.  Mark planned another one of his turn the table around interviewed with me.  You must give it to him with all the planning he did to make this happen.  Mark knew I was working on podcast episodes the day he was coming in.  So, he knew if he timed his arrival correctly, I would be in the middle of recording.  Thereby ensuring my recording equipment would be on and ready to go.  He then had one of the members of the Blackmore Enterprises team lure me out of my recording studio (my office.)  When I returned, Mark was sitting at my interview table with a stack of questions waiting to interview me.  Wow, didn't expect that… 
So, please join Mark as he interviews Trace Blackmore, CWT. 
Timestamps:
Trace's Favorite Episode [03:20]
The biggest accomplishment [07:17]
Reasons for starting the podcast [08:43]
Praises and Criticisms [14:06]
People to bring on the show [18:45]
Organic Phosphate (O.P) Test [26:28]
The lightning round [30:15]
Vision in the next 100 episodes [34:47]
Behind the scenes: Excellent team [42:54]
Quotes:
"Let your good be good until it can be better. And let your better be better until it can be your best." – Mark Lewis 
"Communication is two people getting together, sharing ideas and walking away with something bigger than what they entered the conversation with." – Trace Blackmore
Connect with: 
Mark Lewis on LinkedIn: in/mark-lewis-01a3b56
Tim Fulton on LinkedIn: in/timcfulton
Links Mentioned:
034 The Other One With Mark Lewis, CWT
Tim Fulton – "Small Business Matters"  
092 The One About My TED Talk Experience
001 A New Podcast for Water Treaters